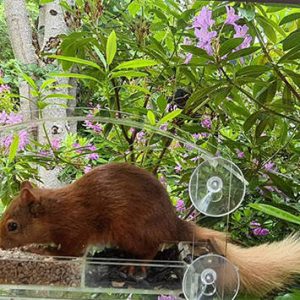 Red Squirrels are regular visitors at Loch Broom Cabins
We feel very privileged to be situated within the red squirrel zone at Leckmelm near Ullapool. Our cabins are surrounded by a pinewood forest where red squirrels have made their home. During lockdown we set up some squirrel feeders and a wildlife camera to catch a glimpse of who was emptying our bird feeders.  Within 24 hours we had videos and pictures of several red squirrel's all tucking into the peanuts and sunflower hearts. The pictures above are taken from the Squirrel's Leap Cabin where there is a window feeding box next to your dining table. It's a really special experience so see wildlife so close in the comfort of your cosy cabin. The squirrels are daily visitors as well as a variety of wild birds too who also pop by for a quick feast too.
Where is the easiest place to see red squirrels?
There's a variety of different cabins which are good locations for spotting them. The
Squirrels Leap
, 
Stags Rest
, Eagle Hide, and
Sunset Lodge
 are all very good locations to see them. They love to play on the 2 rowan trees outside the Squirrels Leap Cabin.
Review from Guests
Rob and Liz who visit us 3 times a year said – "It was the best wet day in they had ever had!" The red squirrels entertained them for several hours chasing one and another up and down the trees then appearing on the window box for a feed then darting off again. They had never seen a red squirrel before staying with us and were mesmerised watching them from the sofa in Squirrel's Leap cabin.
Did you know ?
The red squirrels are the only native squirrels to Scotland. Around 75% of the entire UK red squirrel population are in Highlands which makes it the easiest area to spot them. ( aren't we lucky !)
Take your time to experience the highland wildlife during your stay in the Scottish Highlands
and book your stay at Loch Broom Cabins in advance.